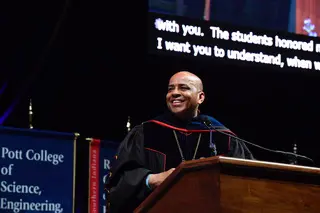 Click here for a full web gallery of images from the Inauguration CeremonyIn his inaugural address as president of the University of Southern Indiana, Ronald S. Rochon charged the students in attendance with one very specific task: find someone who is different from them and get to know them."I want better for our children. I want better for your children," said Rochon. "In order for us to do that, we have to come together. We have to break bread, we have to listen to stories and share love with one another."In his remarks, Rochon expressed deep gratitude to family members, mentors and to the legacy and influence of the leaders who have contributed to the establishment of USI and its growth over the past 54 years. In reflection upon his place as the first African American to hold the position of president at USI, Rochon drew upon the history of the Evansville area as a stopover on the Underground Railroad to express how people of different races and upbringings can come together and fight to not only better their own lives, but the lives of future generations."It's not about me. It's about men, woman and children who came before us; who had this vision to develop a community that would embrace one another, that would uplift one another, that would do something amazingly special to serve other people."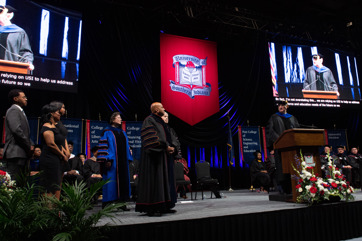 Rochon's address followed his official investiture as president of the University. Leading the investiture was Indiana Governor Eric J. Holcombe, accompanied by W. Harold Calloway, chair of the USI Board of Trustees; H. Ray Hoops, USI president emeritus; and Linda L. M. Bennett, USI president emerita.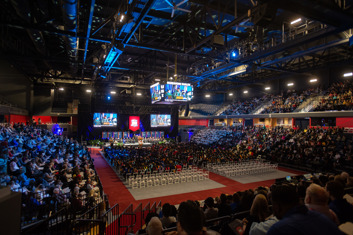 "Your service to USI has already had such a tremendous impact and positive influence on this University," said Holcombe in remarks preceding the investiture. "We are relying on USI to address our workforce and education needs of the future, so we can continue to all together take our state to the next level. I have no doubt – zero – that under Dr. Rochon's leadership, USI will do just that."The inauguration ceremony was held in the newly-opened Screaming Eagles Arena in front of hundreds of University dignitaries, alumni class representatives, local faith and legal leaders, representatives of USI's student organizations and thousands of USI students, faculty, staff and community members in attendance to support Rochon and celebrate the University. In addition to Holcombe, Rochon was congratulated by Evansville mayor Lloyd Winnecke and personal mentors Muriel A. Howard, president emerita of Buffalo State College, and Maj. Gen (R) Barrye L. Price.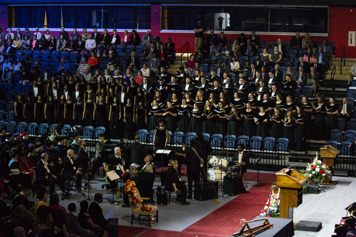 Mixed with remarks from the platform party were rousing performances from two award-winning choirs, the Tuskeegee University Golden Voices, representing Rochon's undergraduate alma mater, and the USI Chamber Choir. The two groups musically punctuated Rochon's charge to students by combining for a performance of Glenn Burleigh's "Order My Steps" that brought the entire crowd to its feet in rousing ovation."When we talk about issues of diversity and collaboration," remarked Rochon, "these students? They're showing us how it's done."FacebookTwitterCopy LinkEmail